RESEARCH AND DEVELOPMENT
OF PHARMACEUTICAL PRODUCTS
Research and development (R&D) is one of the strategic pillars of the Farmasierra Group, which is why we constantly invest in this area with a long-term vision and as a guarantee for the future.
We research, contrast and develop medicines on a continuous basis, improving and helping to optimise therapeutic solutions.
Annual investment in R&D accounts for 25% of the company's total investment, a percentage that has been increasing year after year. We allocate this investment to collaboration with public research centres, equipment, training and the incorporation of new pharmaceutical technologies.
OUR R&D STRATEGY
WE RESEARCH AND DEVELOP INNOVATIVE PRODUCTS THAT BRING VALUE TO PATIENTS
Improving health through medicine and innovation is our reason for being. To this end, we research new therapeutic indications, combine well-established active ingredients in order to increase their effectiveness and reduce side effects, and develop new dosage forms that facilitate the administration of our products.
Lines of research
New clinical indications of established medicines
Combination of active ingredients to improve effectiveness and reduce side effects
New dosage forms
Innovative technologies
Therapeutic areas
Anti-infection
Cardiovascular
Central nervous system
Digestive system
Genitourinary
Osteoporosis
Paediatrics
Pain and inflammation
Respiratory system
Products
Drugs
Food supplements
Self-care products
New products Committee
Medical
Regulatory
Development
Manufacturing
Commercial
Activities
Research
Galenical and analytical development
Technology transfer
Industrial scale-up
Clinical trial medication
A long-term vision to find solutions for the future
HOW WE WORK IN R&D
DEVELOPMENT OF MEDICINES AND SELF-CARE PRODUCTS
We research, contrast and develop medicines on a continuous basis, improving and helping to optimise therapeutic solutions. In order to achieve our goal of generating innovative products, we carry out a strategy based on the following areas of action:

IDENTIFICATION OF NEEDS BY THE NEW PRODUCTS COMMITTEE

SEARCHING AND PROPOSING SOLUTIONS

PRODUCT/PROJECT SELECTION

GALENICAL AND ANALYTICAL PRODUCT DEVELOPMENT

IN VITRO STUDIES AT THE CELLULAR LEVEL

CLINICAL TRIALS

REGISTRATION

LAUNCH AND COMMERCIALISATION
LICENSING
The generation of a new product requires the galenical and analytical developments that allow to establish the requirements for the formulation and stabilization of the medicine.
The aim of galenical development is to define the dosage form which will enable clinical studies to be carried out and which is also appropriate for the subsequent commercialisation of the drug.
Analytical development establishes the methods necessary to confirm pharmaceutical quality standards.
GALENICAL DEVELOPMENT
Optimisation of formulas and processes (semi-solids, solids, liquids).
Definition of the dosage formula (tablets, hard gelatine capsules, powder for extemporaneous solutions, emulsions, solutions, suspensions, gels, lotions and ointments).
Laboratory tests.
Packaging definition.
Pre-stability studies.
Pilot batches.
Industrial scale-up.
ANALYTICAL DEVELOPMENT
Development of analytical methods (dissolution test, spectrometry, HPLC, UPLC, ICH stability, …).
Analysis of raw materials and active ingredients.
Validation of analytical methods.
Analysis of pre-stability studies.
Pilot batch analysis.
Photo-stability studies.
Preparation of regulatory documentation for New Products.
IN VITRO STUDIES AT THE CELLULAR LEVEL
In vitro studies allow to validate the concept of a new product. These studies are carried out in collaboration with specialised public research centres, such as the Spanish National Research Council (CSIC) and the Spanish National Cancer Research Centre (CNIO).
Through collaboration with clinical research laboratories and hospitals, and with the necessary authorisations, we obtain tissue samples from patients to reproduce the biochemical functioning of the organs. In these models we test the effect of the active ingredients that we will later commercialise in their appropriate dosage forms.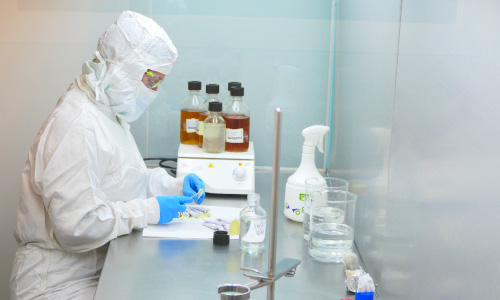 Clinical trials are designed and coordinated by clinical researchers at collaborating research centres. Moreover, clinical researchers are informed of the results obtained at the cellular level in the laboratory.
The preparation of the medication for clinical trials is carried out in our facilities in areas specifically designed for this purpose.
The clinical trials are carried out in various hospitals.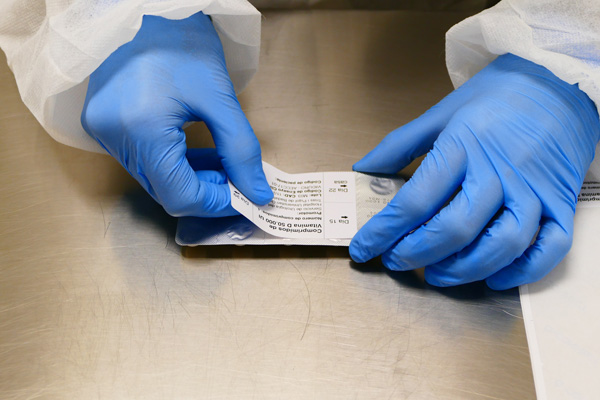 PROMOTION OF SPANISH RESEARCH TALENT
COLLABORATION IN R&D
Aware of the enormous talent of Spanish researchers, we establish strategic alliances with the main research centres in our country.
The company works in collaboration with reference centres and supports projects of great value, such as the research carried out with the Spanish National Research Council (CSIC) and the Spanish National Cancer Research Centre (CNIO) to find out about new therapeutic uses for vitamin D.
We are currently participating in a clinical trial with vitamin D in urethral cystectomy and by providing the necessary medication, which we have developed ourselves, in collaboration with the Hospital Germans Trias i Pujol in Barcelona, Hospital 12 de Octubre and Hospital La Paz in Madrid and the Hospital Virgen de la Victoria in Malaga.
OUR FACILITIES
RESEARCH AND DEVELOPMENT
Our R&D centre complies with GMP regulations for the preparation of pilot batches, stability studies and industrial scale-up. With a surface of 250 m2, the R&D Area has laboratories for Galenical Development and Analytical Development equipped with state-of-the-art technology, analytical instrumentation room, solid dosage forms coating room, pilot plant for industrial scale-up, primary conditioning room, climatic stability chambers in different climatic zones, photo-stability chamber, documentation centre and literature research.
The R&D centre has four different sections:
LABORATORY OF GALENICAL DEVELOPMENT
The Galenical Development laboratory is equipped to carry out all the operations necessary for formulation, mixing, dosage form and packaging.
The Galenical Development section studies and selects the dosage form to be developed and designs the production process, carrying out the physical characterisation of mixtures and granulates, such as determining apparent density, fluidity, angle of repose, hardness, reliability, dissolution and disintegration of solid forms, granulometric analysis, weight control and stability studies. All this is duly coordinated with the analytical development activities.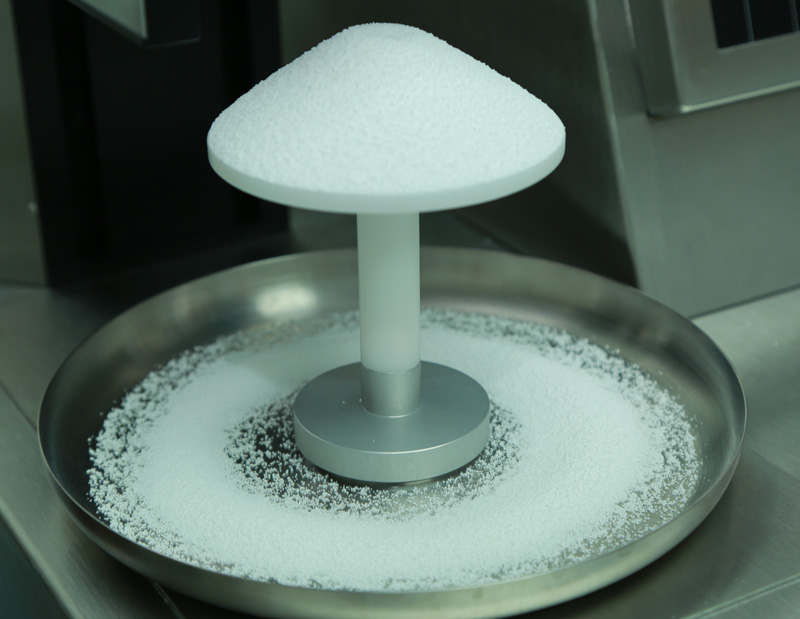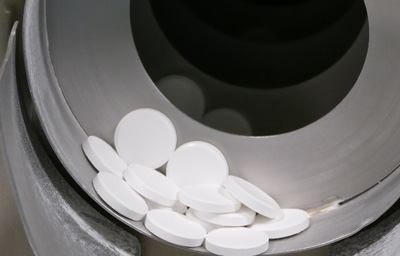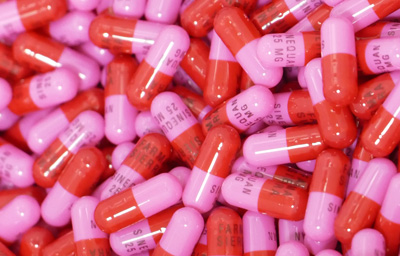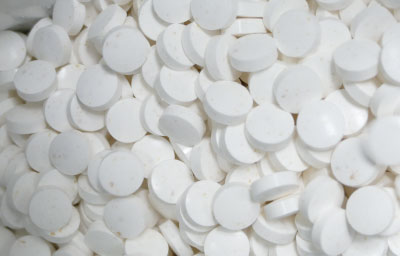 ANALYTICAL DEVELOPMENT LABORATORY
In the Analytical Development laboratories, the development and validation of analytical methods is carried out for their subsequent transfer to the Quality Control laboratory.
The laboratory is equipped with the latest liquid chromatographic analysis techniques (HPLC and UPLC), duly equipped with advanced high-sensitivity detection systems, gas chromatography (HS-GC), dissolution tests, spectrophotometry, potentiometry, photostability cameras, microbiological analyses, in addition to the typical equipment of an analysis laboratory.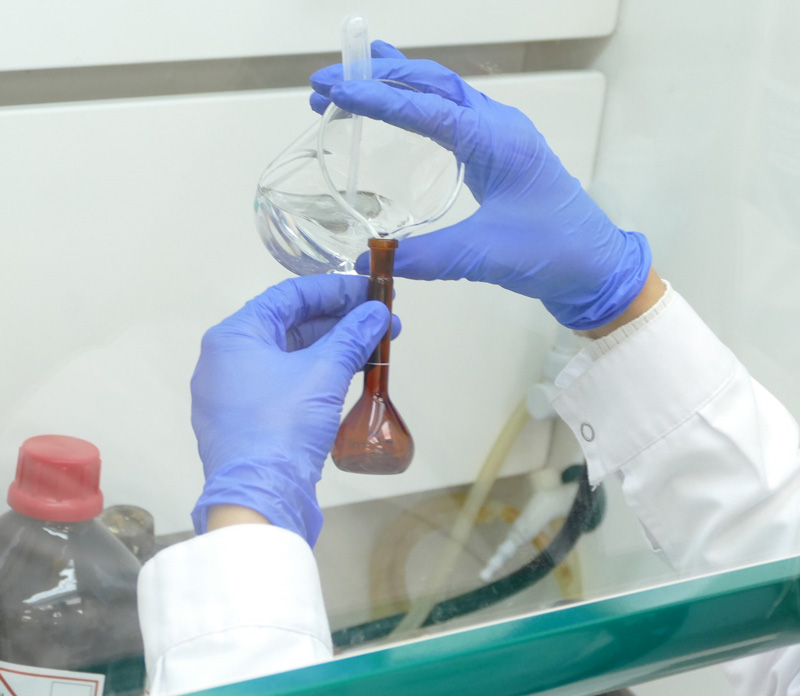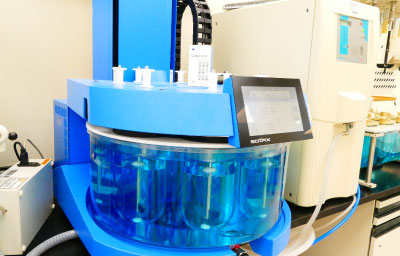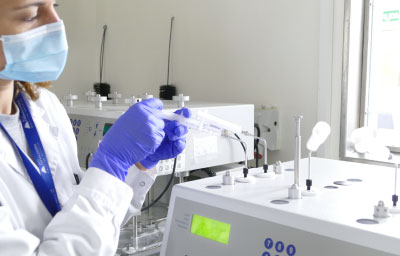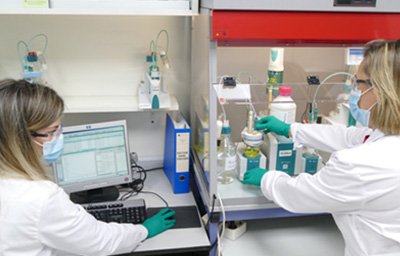 CLIMATE AND PHOTOSTABILITY CHAMBERS
At Grupo Farmasierra we have climate chambers in different temperature and relative humidity ranges, as well as photostability chambers.
All of this, together with the great experience and competence of our professionals, allows us to carry out accelerated and long-term stability studies in controlled temperature and humidity conditions, in climate zones I to IV according to ICH (International Conference on Harmonization) standards, simulating the environmental conditions of the places where the medicines are to be used in order to be able to check their stability and effectiveness during their useful life.
25°C / 60 %RH
30°C / 65 %HR
40°C / 75 %HR
30°C / 75 %HR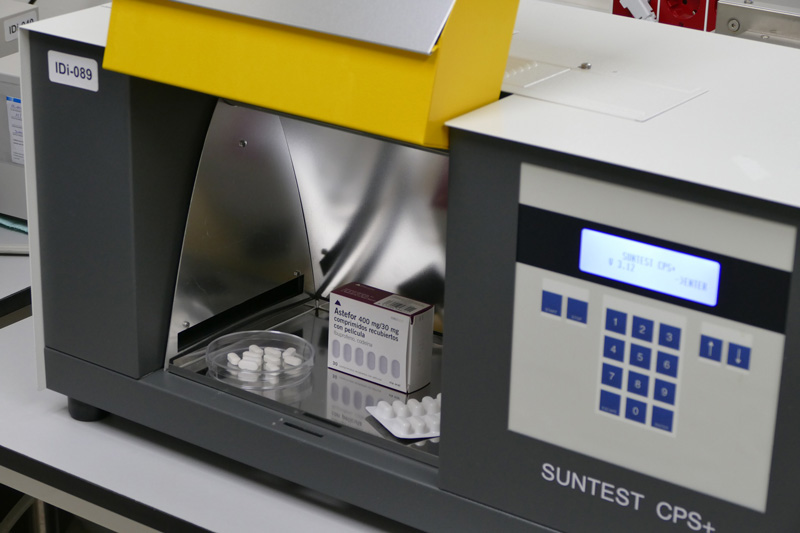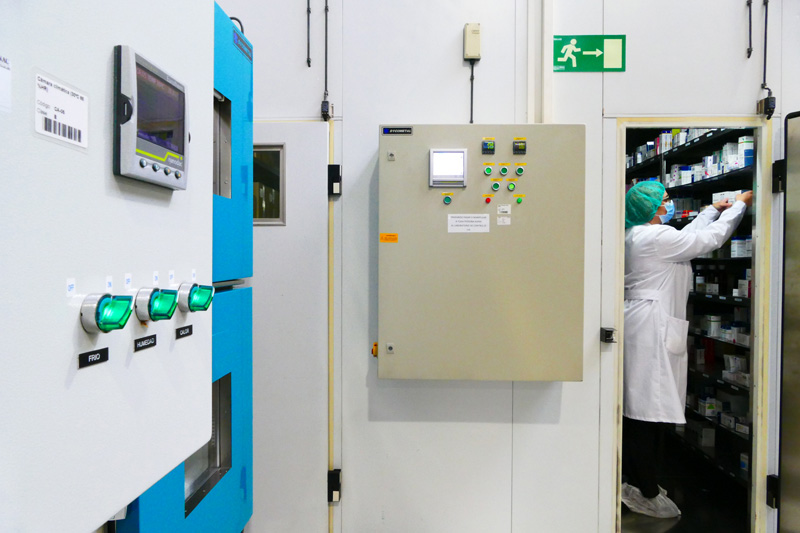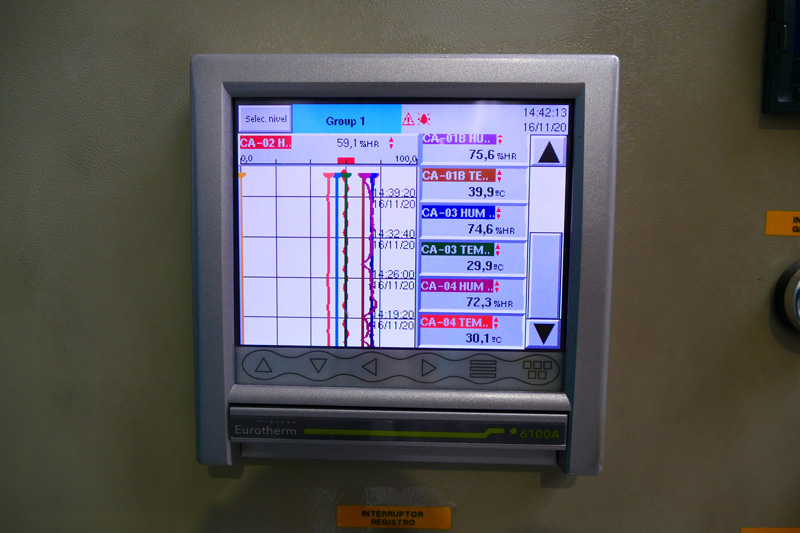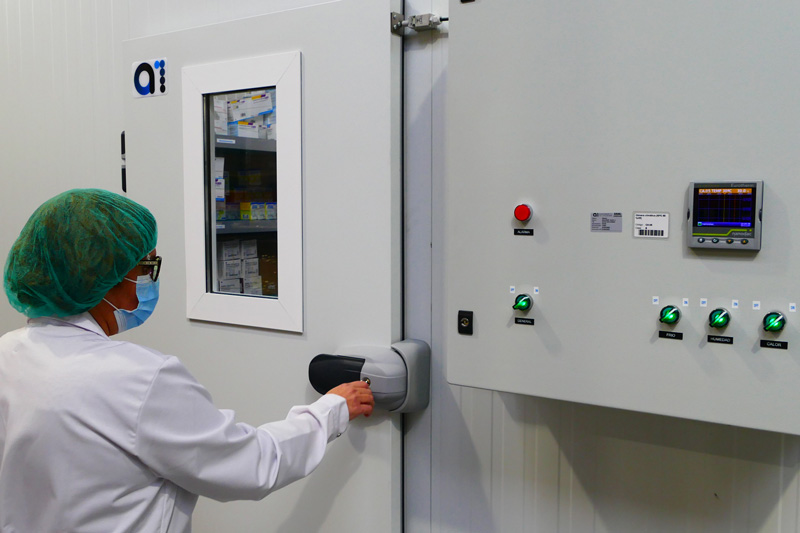 We have a pilot plant fully equipped with the appropriate facilities and equipment to carry out industrial scale-up operations under GMP requirements, becoming an important technological support to the R&D we carry out.
In the pilot plant we produce pilot batches at a semi-industrial scale in intermediate scale equipment, thus allowing us to extrapolate the results of basic research at laboratory level to the industrial scale for the different dosage forms of semi-solids, solids and liquids.
This area is equipped, among others, with the following machinery
V shaped mixing machines of various sizes.
High intensity mixing machine.
Tablet-pressing machines.
Hard gelatine capsule filling machines.
Envelope filling machines.
Blistering machine.
Bottle filling machine (tablets, powder, capsules).
Tube filling machines.
Bottle filling machine (liquids, suspensions, syrups, extemporaneous solutions).