WE ARE LOOKING FOR YOUR TALENT
WORK WITH US
We are looking for people who help us maintain a good working environment, a spirit of collaboration and a desire to grow in the health sector.
One of our greatest assets is the human team that forms the Farmasierra Group and we know that we must take care of each and every one of the people who are part of this great team.
That is why people who come to work with us are treated with the greatest respect for them, their initiative and their personal involvement.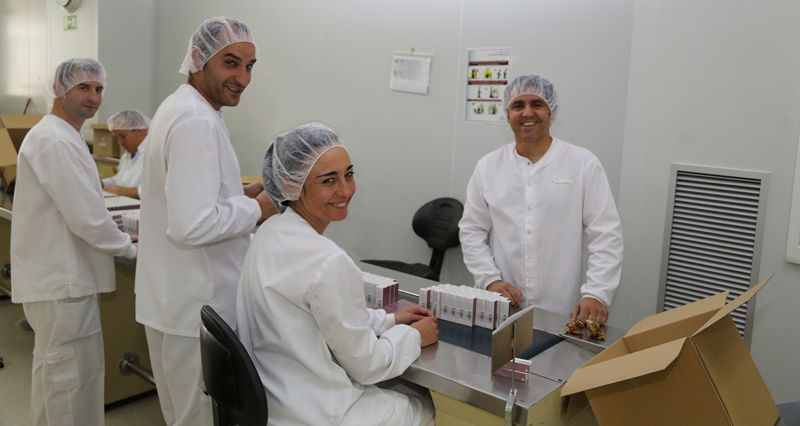 WE VALUE AND PROMOTE
YOUR PROFESSIONAL SKILLS
In Farmasierra Group, any person longing to work, contribute, learn and get involved in a business project in which we consider that we are all important, has several opportunities for professional development.
We value both knowledge and attitudes, and we rely on the proactivity of the people who make up our team. We look for people who know how to listen, collaborate and understand the needs and objectives of the organisation.
Experience within the pharmaceutical sector, as well as specific skills in the position to be held.
Communication, negotiation, planning and organisational skills.
Teamwork, ethics, integrity, honesty, maturity, responsibility and leadership.
A long-term vision to find solutions for the future
WE WANT TO CREATE A
GOOD PLACE TO WORK
At Farmasierra Group we believe it is essential to take care of the people who make up the group in order to develop our activities. That's why our employees enjoy work benefits that give them stability and allow them to reconcile family and working life.
COMPANY CANTEEN
We have a dining area for our employees in our facilities.
TRANSPORT
We facilitate workers' mobility, from their homes to our facilities.
LIFE INSURANCE
Our employees enjoy benefits such as life and accident insurance.
EMPLOYMENT PROMOTION
Professional promotion and training policies.
REMUNERATION
Very competitive salaries.
THERE IS ALWAYS A CHANCE
SEND YOUR CV
Send us your CV and we will take it into account should a vacancy occur.
If you are interested in joining the Farmasierra Group, send us your CV to rrhhseleccion@farmasierra.com
Basic information on data protection
Responsible: GRUPO FARMASIERRA SL.
Purpose: To attend requests or petitions made by the interested party through the contact provided on the website either for general inquiries, request information on medicinal products, business development issues, information concerning Farmasierra Distribution, inquiries on orders and invoicing, commercial attention to pharmacies and /or on pharmacovigilance issues.
Legitimation: Consent of the interested party.
Recipients: Your data may be communicated to the group companies for administrative purposes and the execution of your request.
Rights : You have the right to access, rectify and delete data, as well as other rights, as explained in the Additional Information section.
Additional information: You can consult additional and detailed information on Data Protection at the following web site.